PRE-ORDER
50% deposit
MIN ORDER RM300
Due date to submit order will be 02 JULY 2011
ETA 02 AUGUST
Untuk order, sila attach gambar dan email
FISHER PRICE ROCK-A-STACK
LAMAZE WRIST RATTLE-STRIPE BEE
SOFT BOOKS
MOQ 12PCS (3 ZEBRA,3 GIRAFFE,3 LION, 3 CROCODILE)
LAMAZE MORTIMER THE MOOSE
6 PCS X RM17=RM102
12 PCS X RM 16.50=RM198
6 PCS X RM17=RM102
12 PCS X RM 16.50=RM198
6 PCS X RM26=RM156
12 PCS X RM 25=RM300
- Size: length 19cm, width 33cm
【Description】: lamaze a very classic lathe hanging toys, toys with the large, brightly colored, uniquely shaped lovely, selected materials, feel particularly good, with CE certification, the professional design, care of the baby while her mother Choose more confidence.
Style is very cute, get our hands on a look, baby spider facing laughing! Paper spider ring back, wings and six legs have different small pendant, bell-shaped flower / heart-shaped BB ring / ring-pull square / round pull ring / ring triangle paper / five-pointed star-shaped rattles; usually very little to see the baby really spider, the spider cloth, but also to meet the baby's desire to explore the world, your baby's life like to know more!
Spider tentacles, Mom and Dad can be arbitrary knot Oh! Baby's crib or car mount such a beautiful spider, other adults and will attract more baby envy!
LAMAZE FOOT FINDER/SOCKS ONLY-BUTTERFLY
LAMAZE FOOT FINDER/SOCKS ONLY-LADYBUG
【Name】: Bear cloth book
【Specification】: 20 * 20cm
[Materials: cloth
[Introduction] Baby
1, soft cloth, not afraid to tear, not afraid to bite, will not hurt the baby.
2, the baby finger grip exercise capacity and enhance the strength of the wrist;
3, vibration and movement features the ability to train the baby eye movements.
4, to help your baby distinguish between different colors, both the educational function of education
5, color, fabric is soft, feel good.
Specification: the right to play within 0-24 months
Color: color shipped randomly
【MOQ】: 15 pcs X RM 2=RM 30
[Age]: more than 3 months
[Length]: The total length of about 30cm
Bed hanging novel design and lovely, colorful graphics all kinds of animals, come together they form the baby sleep best when the toy and entertainment partners.With these colorful,
small animals, hanging beds, cute little baby will make you look forward to reveal the smiling faces. Bed can be directly linked to the crib bell, small animals can crawl for baby, baby crawl exercise capacity, and arm coordination.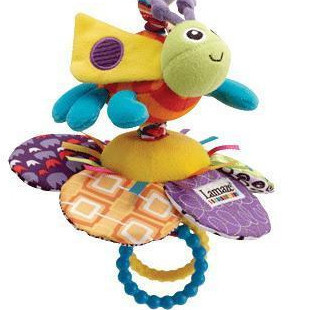 【Name】: lamaze Lamaze insects spend pull shock
Specification: 29CM height is about
[Description]: This year's new more beautiful, pull down the bottom two rings, insects on flowers shock in the past to pull ~ ~
Flowers and insects have a bell;
Flower petals and insect wings with a ring of paper ~ ~
With hanging ring, the game can be hung on racks baby stroller or a place like the color ~ ~ look so beautiful and colorful insects and flowers, the baby will not stop like a hand to pull the oh ~ ~
[Material] Plastic
[Name] bath duck swimming
[Color] random delivery
[Description]
A swimming toy very cute, colorful, realistic style, happy, warm and happy.
MOQ : 30 pcs x RM 1.90=RM 57